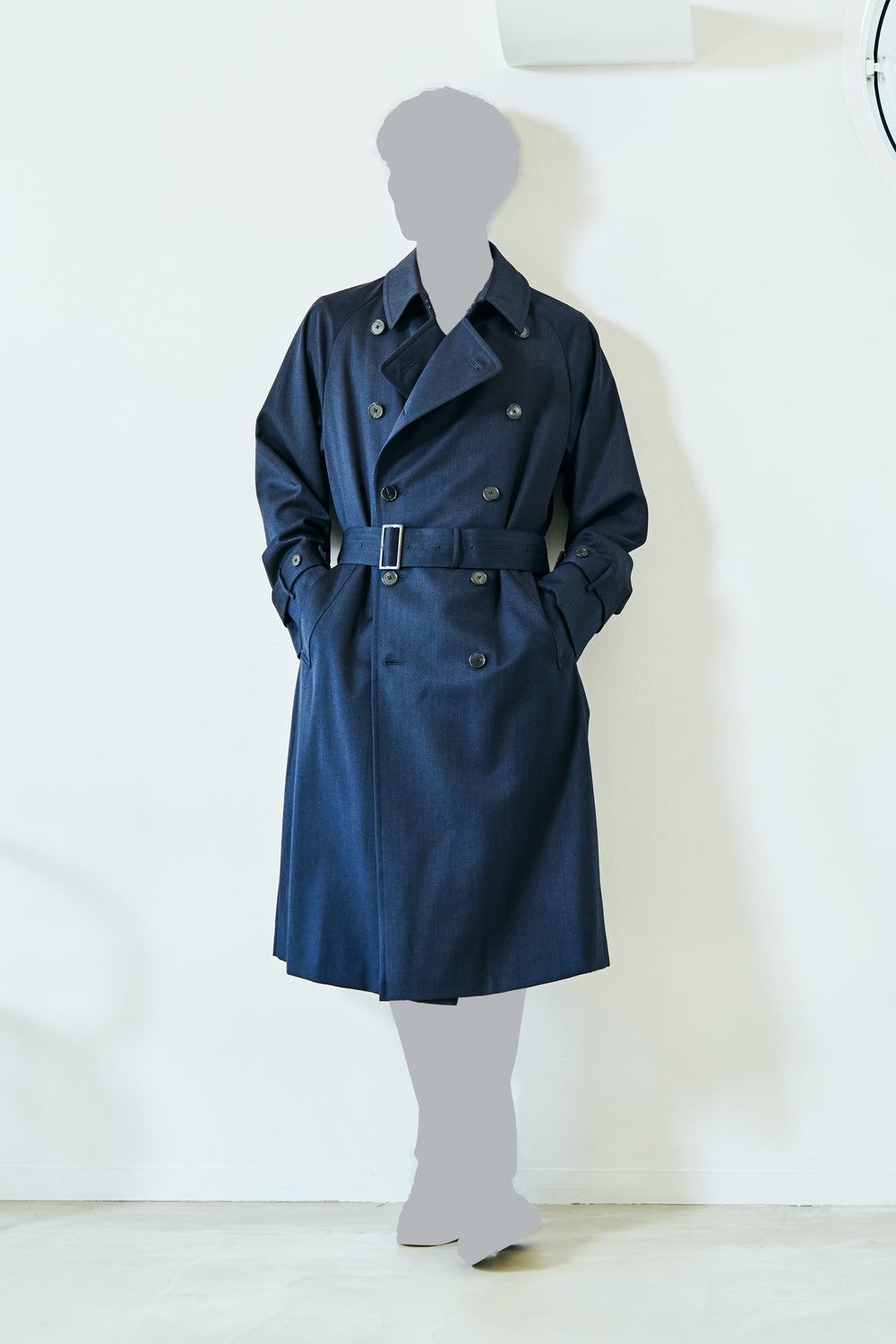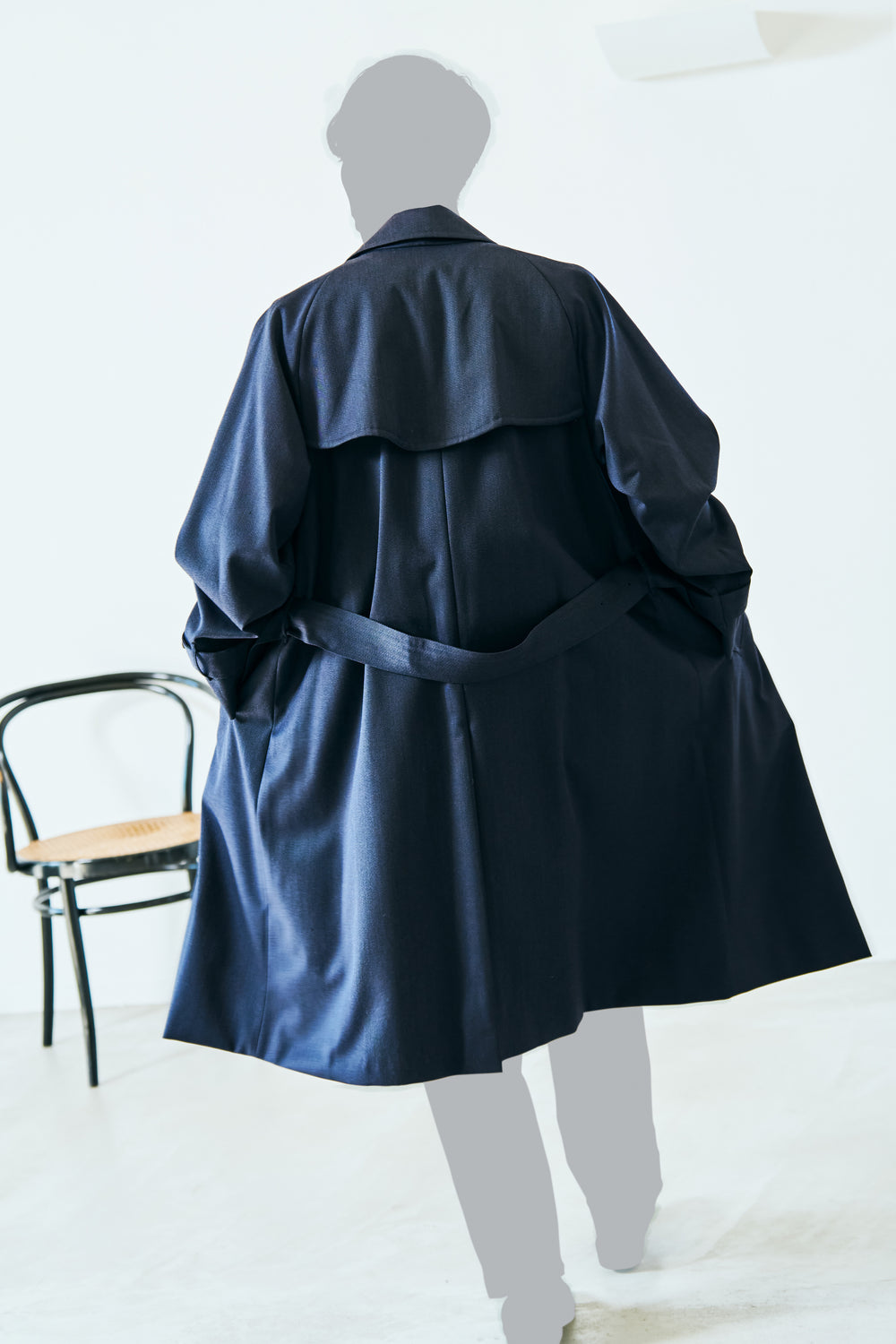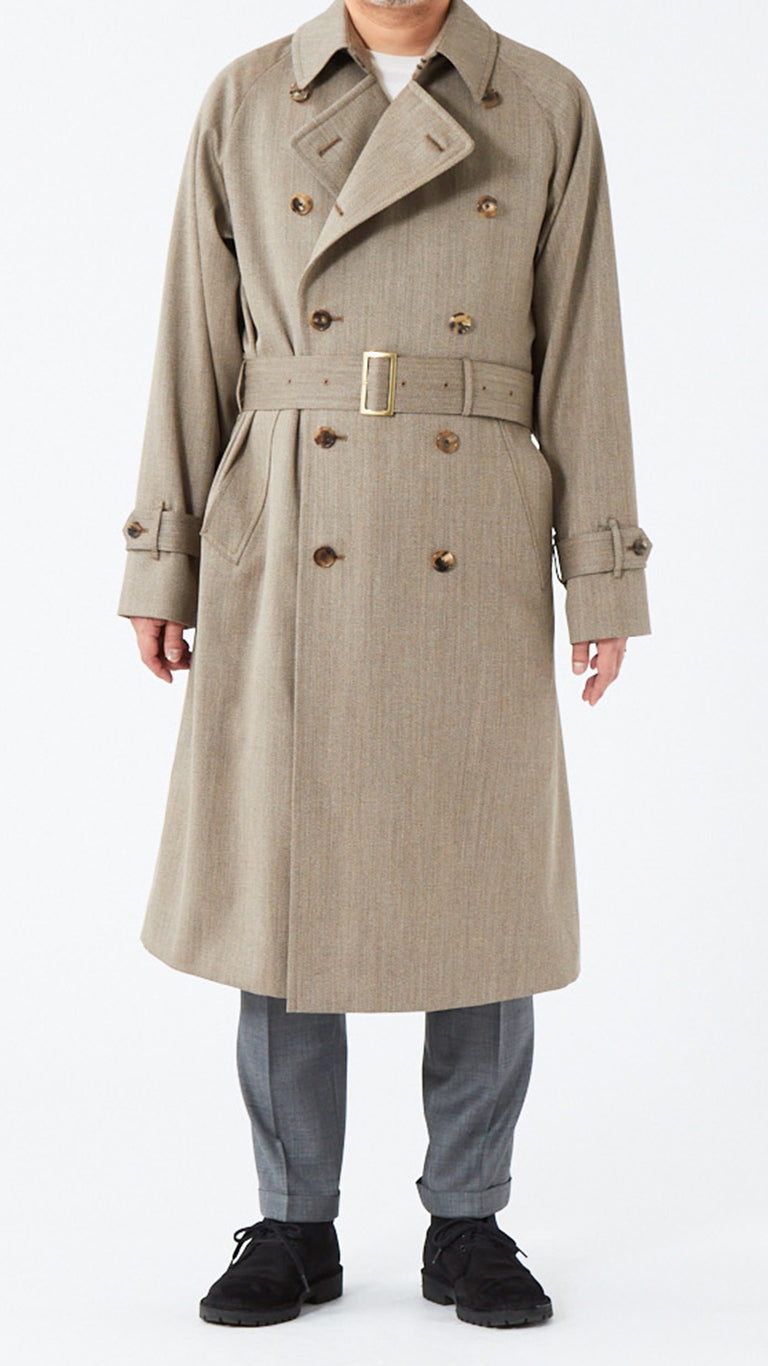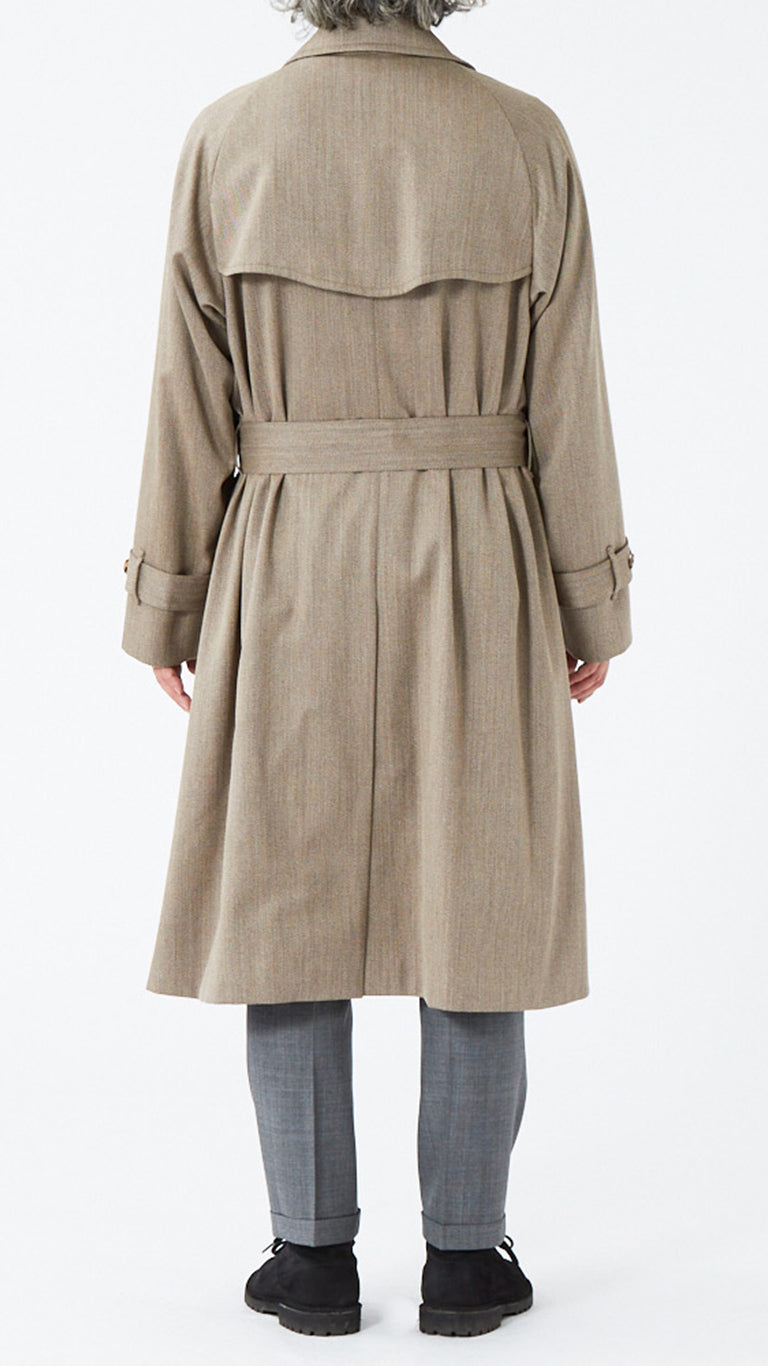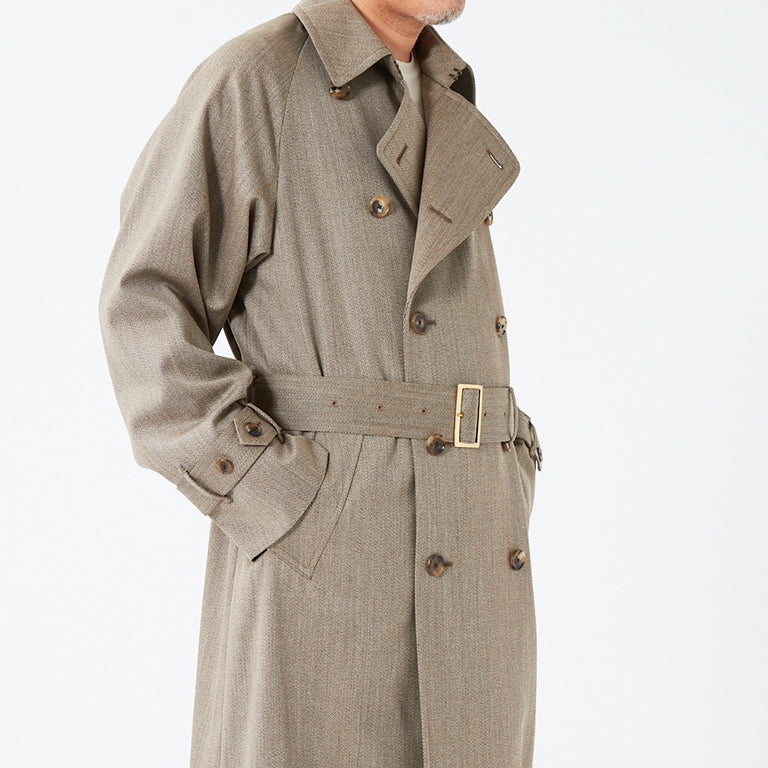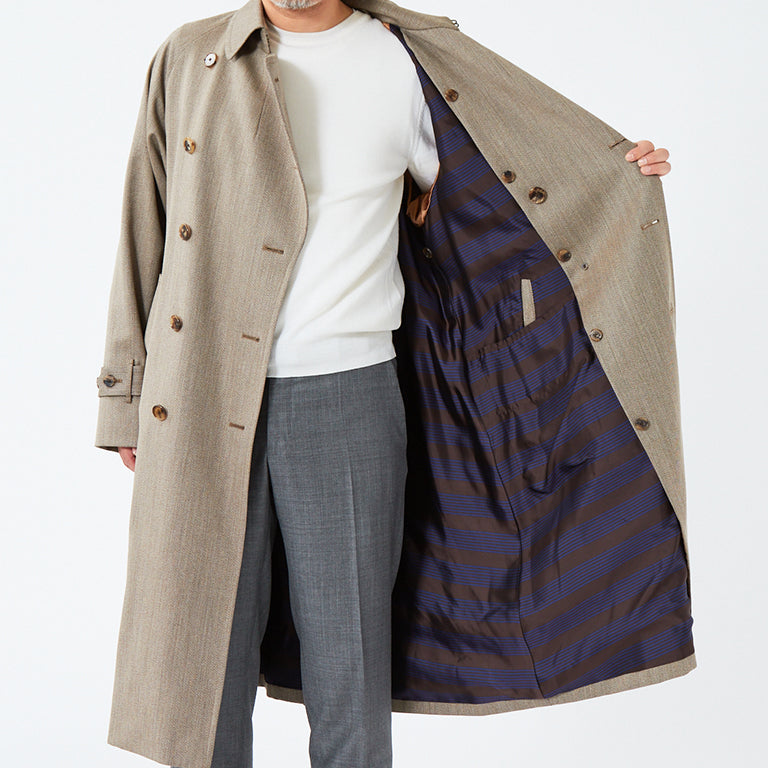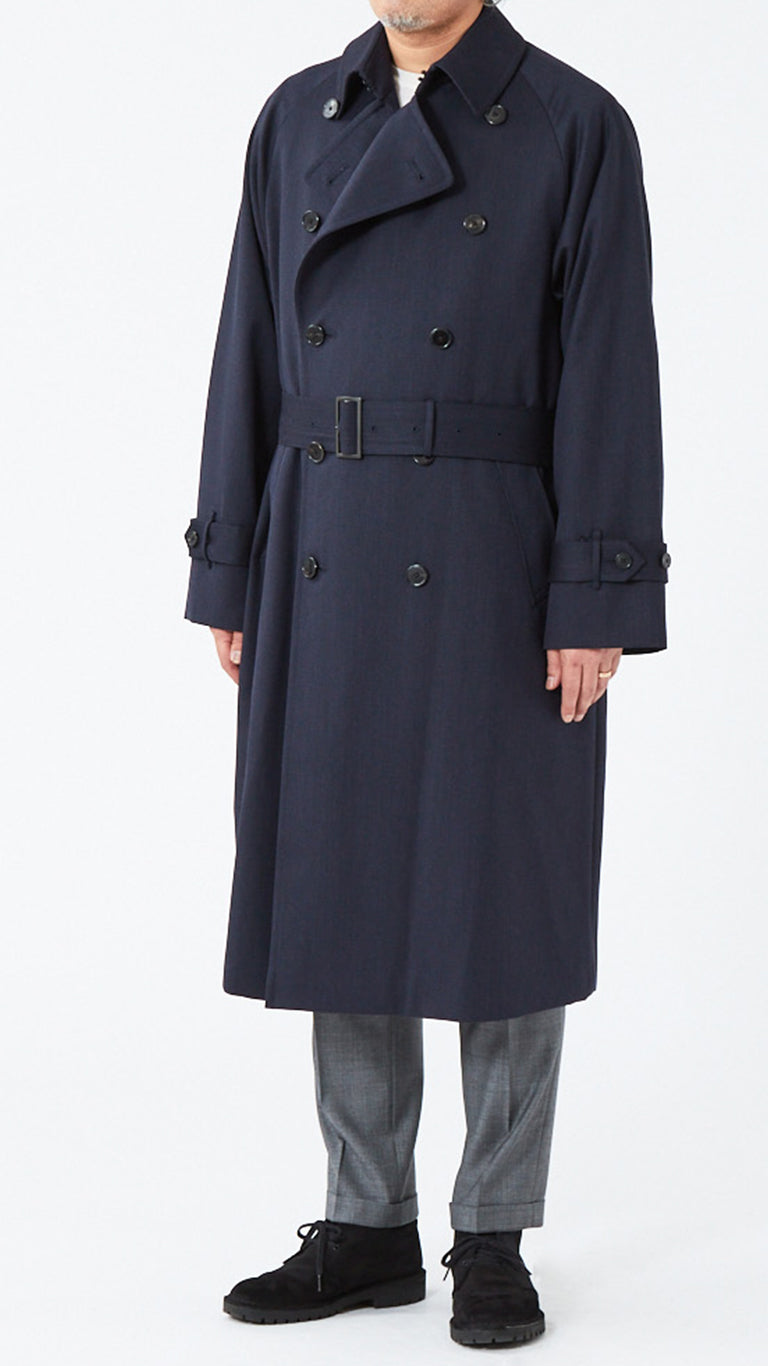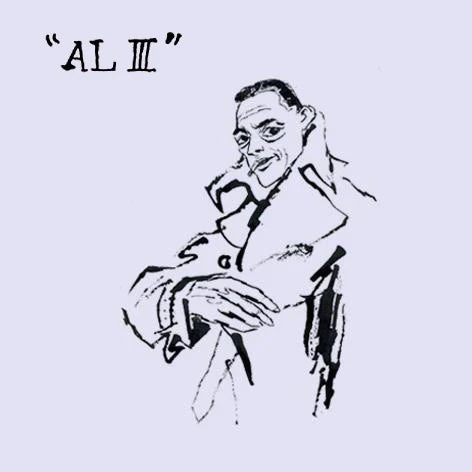 On its warp, we applied mouline yarn which is made by spinning of different material yarn. By combining several material, technique of spinning, count of yarn and weaving construction, we made less of its unique heavyness coming from clear-cut finish of coat fabric, and appropriate tension. It also has function of shower-proof.
縦糸に原料の異なる糸を撚り合わせた杢糸を使用。複数の原料、紡績方法、糸番手、織組織を組み合わせるこで、クリアカット仕上げのコート素材特有の重量感を抑え、適度なハリを持った素材感を共存させました。シャワープルーフ機能を持ちます。
Philosopher, Author, Journalist (1913-1960)
Based on his trench coat which has no epaulette on 1950s.
We referred from trench coat as a military garment on WW1 / WW2.
Feature: Combination of high waist position belt which does not disturb footwork and One panel raglan sleeves which widen range of motion by well devised arm hall cutting pattern.
For ALⅢ, its sleeve tabs, waist pocket, tin warmer which placed back-side of top collar are arranged to simplify.

哲学者、作家、ジャーナリスト (1913-1960)
1950年代に着用していたエポーレットの無いトレンチコートをベースにしています。
WWI/WWⅡ期のミリタリークローズとしての仕様を参照し、足裁きを妨げないハイウェストなベルト位置、工夫が凝らされたアームホールの裁断によって、広い稼動域を確保した一枚パネルのラグランスリーブ等を融合しました。
ALIIIでは、袖タブ、腰ポケット、トップカラー裏のチンウォーマー等をよりシンプルな仕様にアレンジしています。
【MATERIAL】表地(SURFACE):ウール(WOOL)100% 身頃裏地(BODY LINING):キュプラ(CUPRO)100%

【SIZE】
| | Length(on the back) | Nape top cuff | Chest |
| --- | --- | --- | --- |
| XXS | 106 | 81.4 | 104 |
| XS | 109 | 83.6 | 110 |
| S | 112 | 85.8 | 116 |
| M | 115 | 88 | 122 |
| L | 118 | 89.8 | 128 |
| XL | 121 | 91.6 | 134 |
| XXL | 124 | 93.4 | 140 |
All measurments are in centimeter(cm)
【APPROXIMATE WEIGHT FOR SIZE M】3.7kg
【BOX SIZE】82×45×13cm