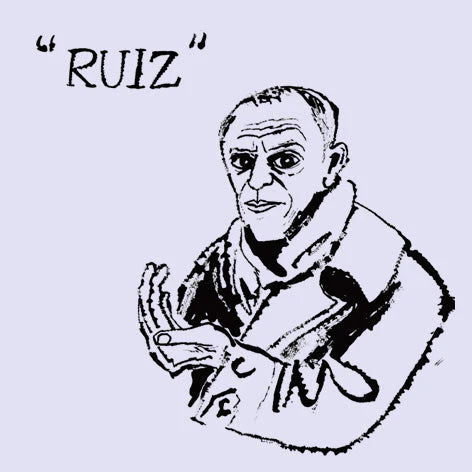 This is special constructed Jersey fabric with "Mosser" finish which gives you more warmth by its face fur.
We investigated and developed to achieve coexistence of "lightness", "rich touch" and "good tension" by blending various different pedigree and growing environment wools. This also includes unique, rare, and bulky Super 160's raw material which has about same level fineness fiber as of cashmere.
素材表面の毛並が温もりを感じさせる"Mosser(モッサ)"仕上げを施した、特殊構造のジャージ素材です。
血統や生育環境によりそれぞれキャラクターが異なる複数のウールを組み合わせて、"軽量"、"リッチな肌触り"、且つ"適度なハリ"が共存できるベストなレシピを確立しました。カシミアと同等の繊度(繊維の細さ)を持つSuper 160's原料の中でも、強い弾力を持つユニークな希少原料等を含みます。
Painter, Sculptor, Printmaker, Ceramist (1881-1973)
RUIZ is based on his portrait taken in 1948, and comination of details from his coats and yoke sleeve which come together of back cape and sleeve, which is shown in military rain coat at same time.

画家、彫刻家、版画家、陶芸家 (1881-1973)
彼の1948年のポートレートを中心に、彼が着用していたその他いくつかのオーバーコートのディテールと、同時代のミリタリーレインコートに見られる、背のケープと袖が一体となった"ヨークスリーブ"を組み合わせて再構築しました。
【MATERIAL】 表地(SURFACE):ウール(WOOL)97%,ナイロン(NYLON)3% 身頃裏地(BODY LINING):キュプラ(CUPRO)100%

【SIZE】
| | Length(on the back) | Nape top cuff | Chest |
| --- | --- | --- | --- |
| XXS | 99 | 81.8 | 104 |
| XS | 102 | 83.6 | 110 |
| S | 105 | 85.8 | 116 |
| M | 108 | 88 | 122 |
| L | 111 | 89.8 | 128 |
| XL | 114 | 91.6 | 134 |
| XXL | 117 | 93.4 | 140 |
All measurments are in centimeter(cm)
【APPROXIMATE WEIGHT FOR SIZE M】3.5kg
【BOX SIZE】82×45×13cm