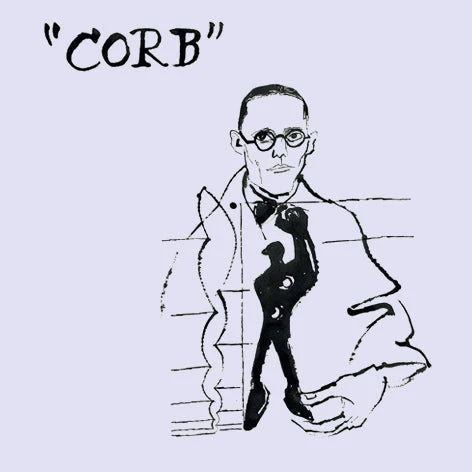 Chevron Tweed Jersey is reproduced the beauty of Tweed in good old days by rare knitting machine, with lightness and elasticity.
Its materials are mixed with original recipe by four types of wool including Shetland wool with two different methods of spinning.
かつてのツイード素材の美しさを、希少な編み機で軽量に、伸縮性を持たせて再現しました。
シェットランドウールを含む4種類のウールをイレギュラーな番手に紡績したオリジナルヤーン使用。
Architect, Urban planner (1887–1965)
CORB has features of raglan sleeves with turn-back cuff and slant flap pocket, and is based on portrait on 1927.

建築家、都市計画家 (1887–1965)
1927年のポートレートをベースに、袖口にターンバックカフスの付いたラグランスリーブと、スラントしたフラップポケットを備えています。
【MATERIAL】 表地(SURFACE):ウール(WOOL)97%,ナイロン(NYLON)3% 身頃裏地(BODY LINING):コットン(COTTON)100%

【SIZE】
| | Length(on the back) | Nape top cuff | Chest |
| --- | --- | --- | --- |
| XXS | 89 | 81.4 | 104 |
| XS | 92 | 83.6 | 110 |
| S | 95 | 85.8 | 116 |
| M | 98 | 88 | 122 |
| L | 101 | 89.8 | 128 |
| XL | 104 | 91.6 | 134 |
| XXL | 107 | 93.4 | 140 |
All measurments are in centimeter(cm)
【APPROXIMATE WEIGHT FOR SIZE M】3.7kg
【BOX SIZE】82×45×13cm