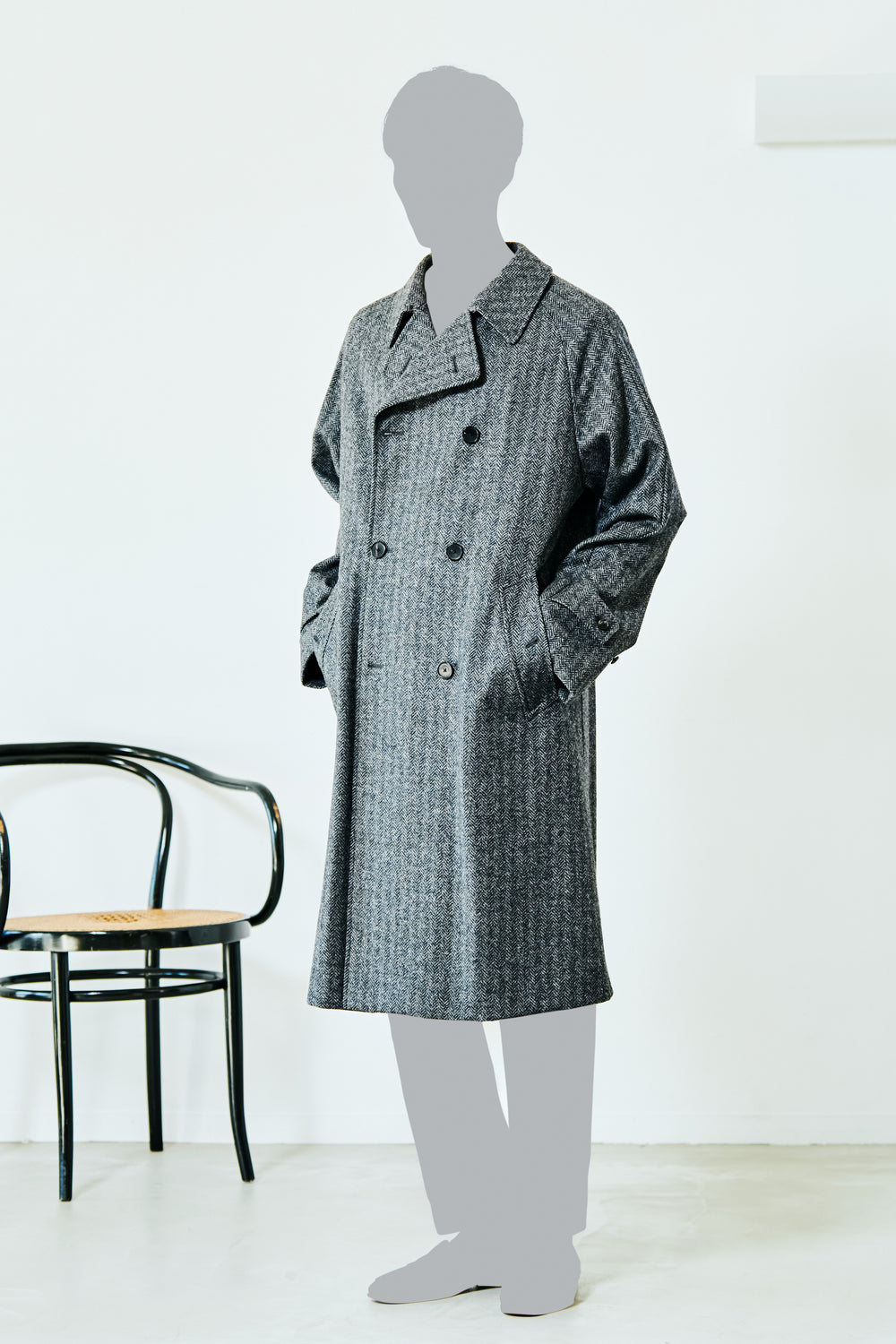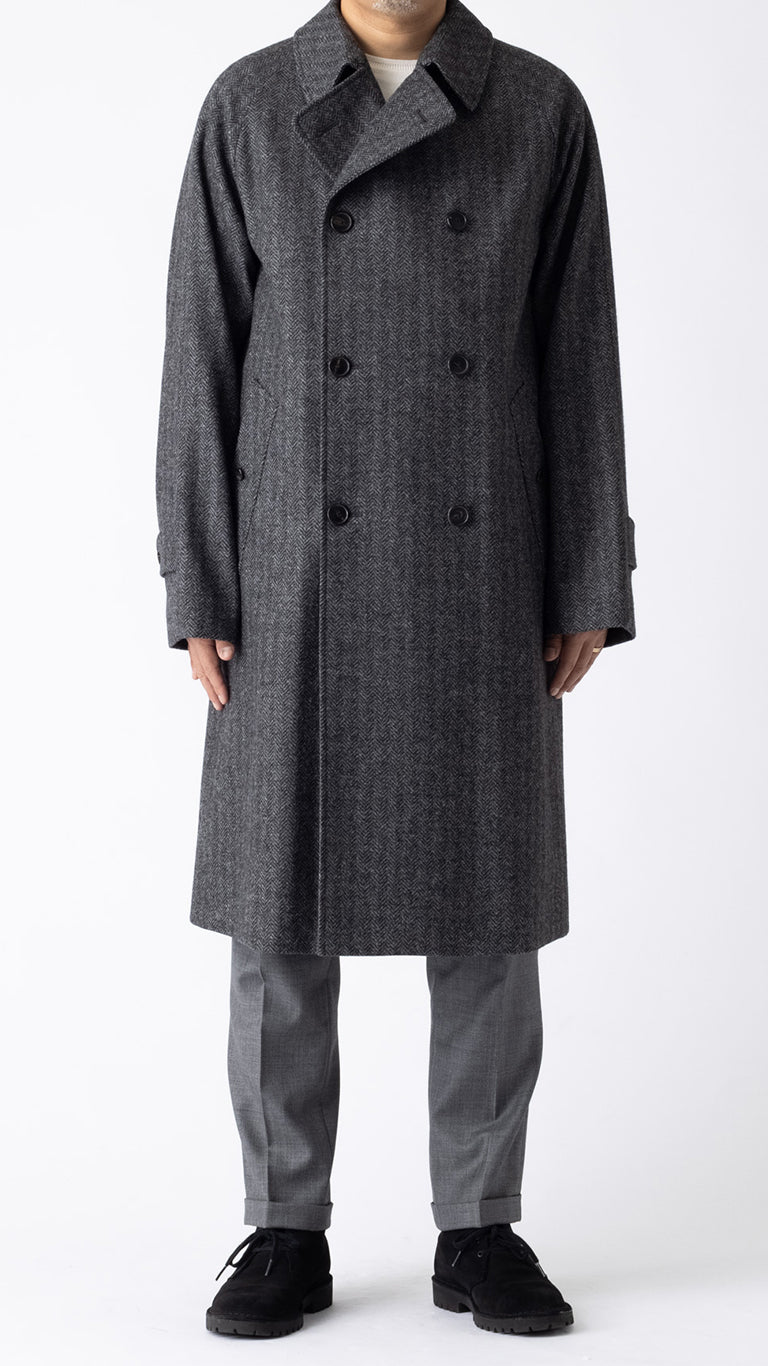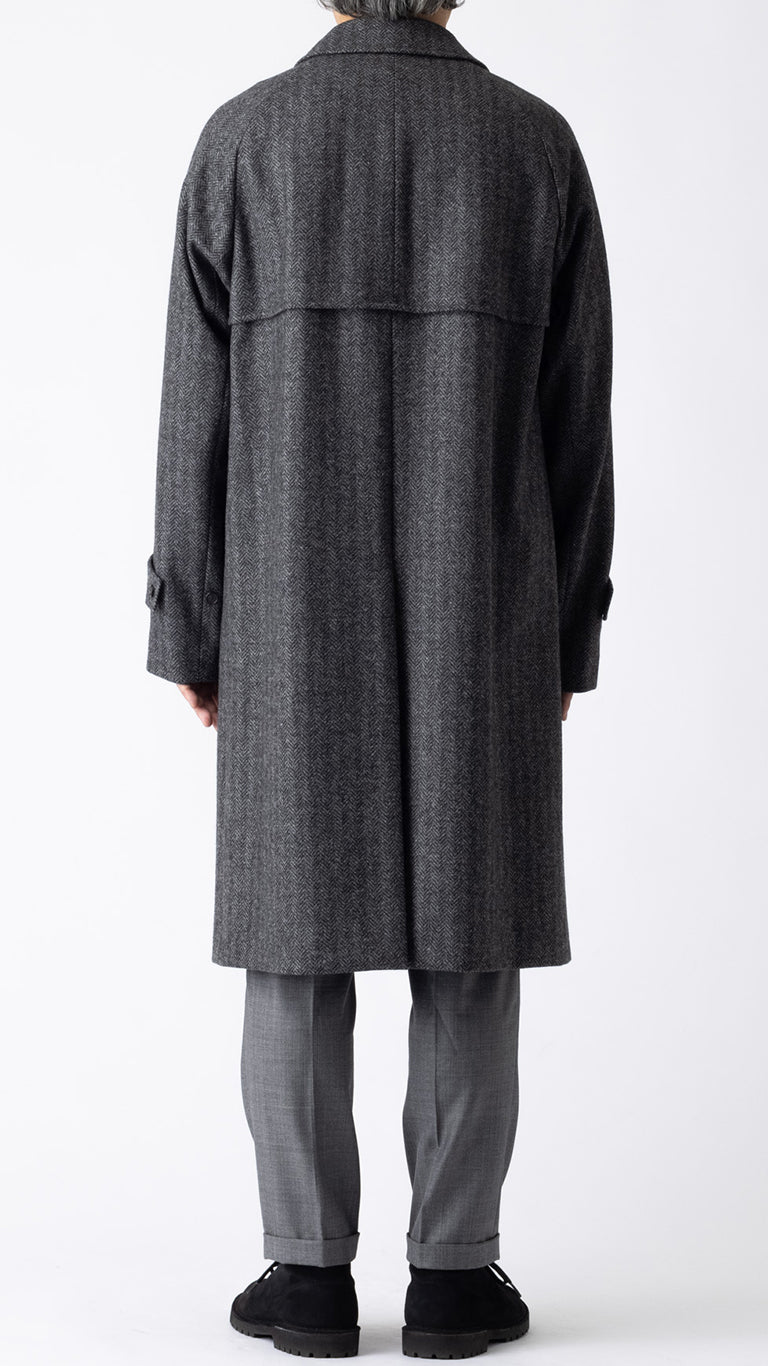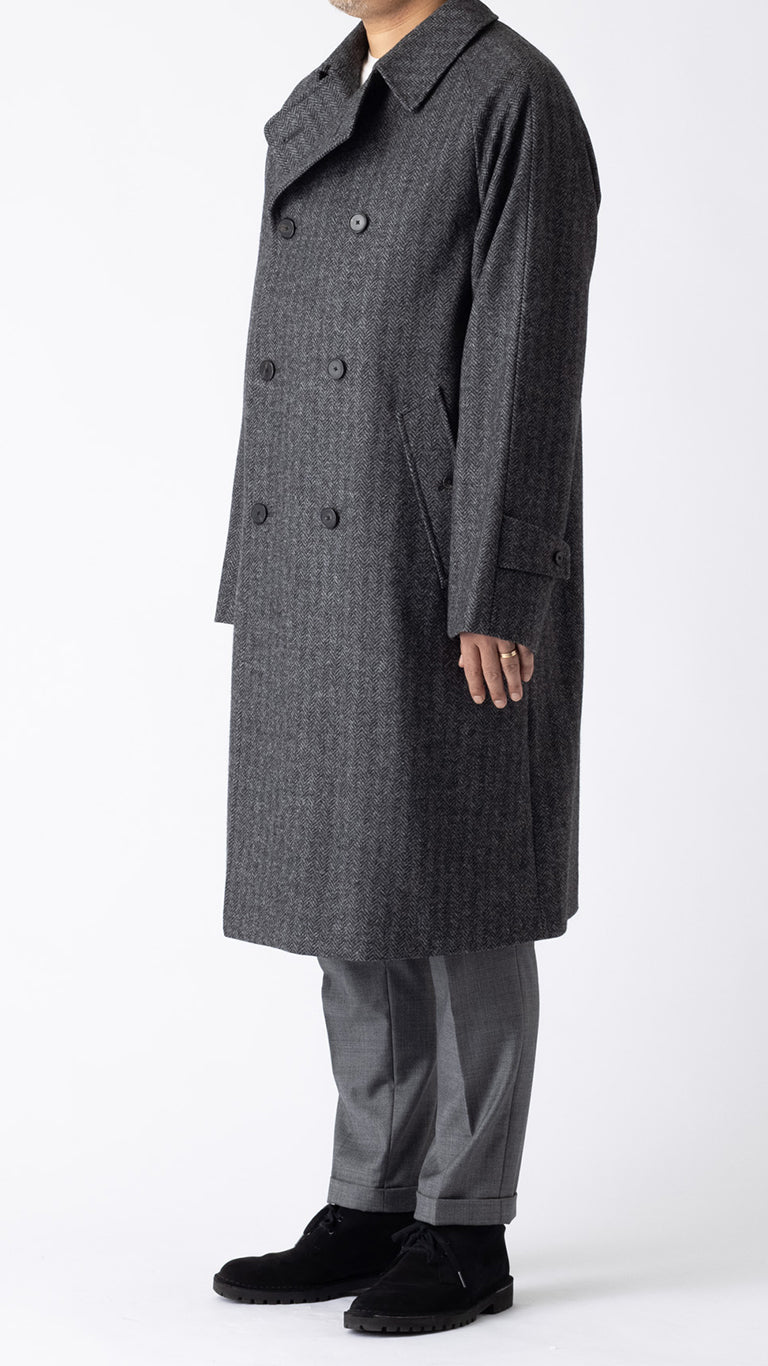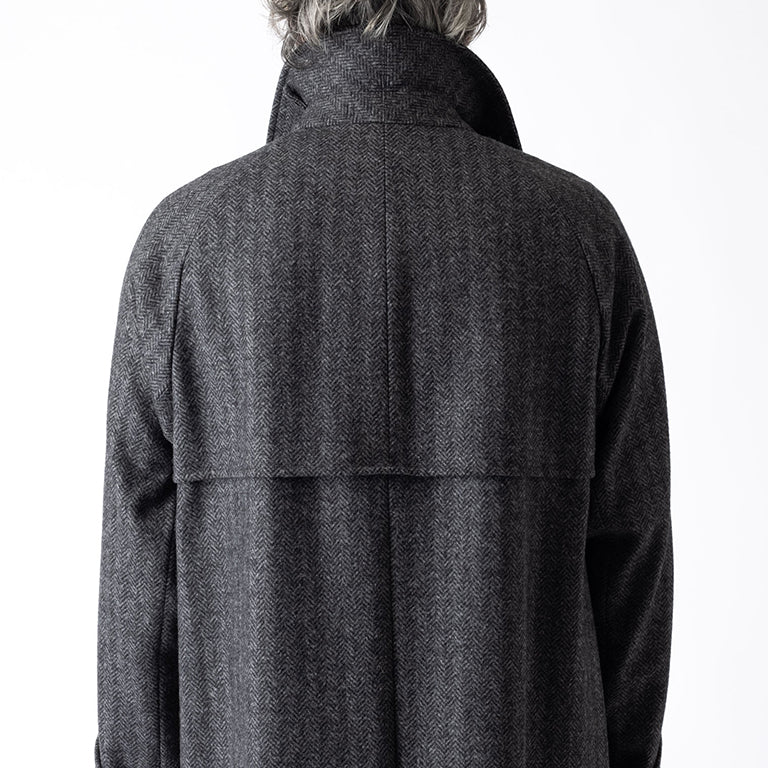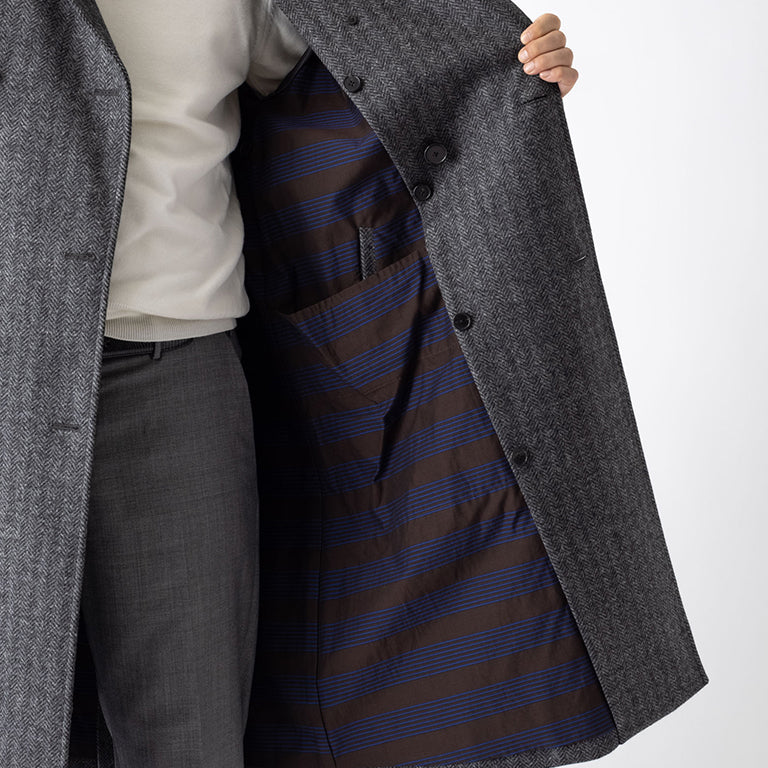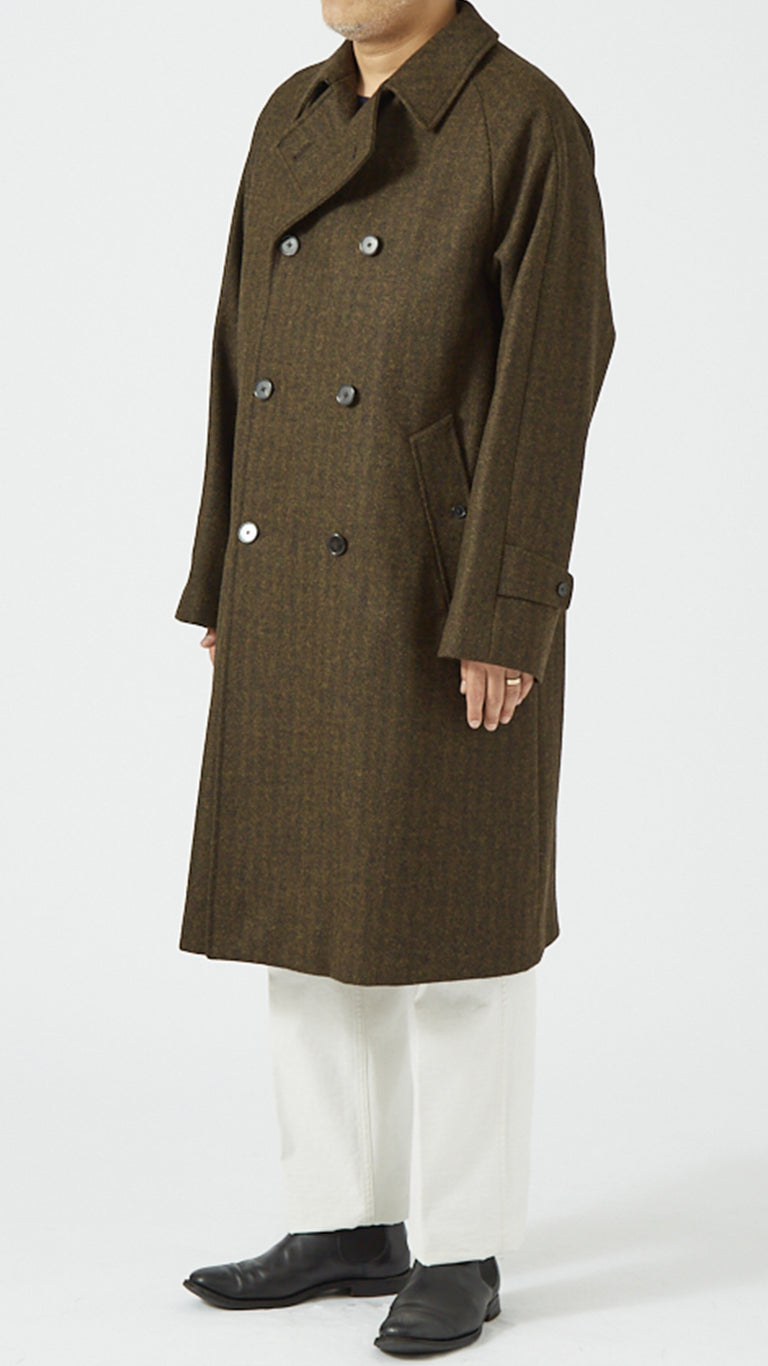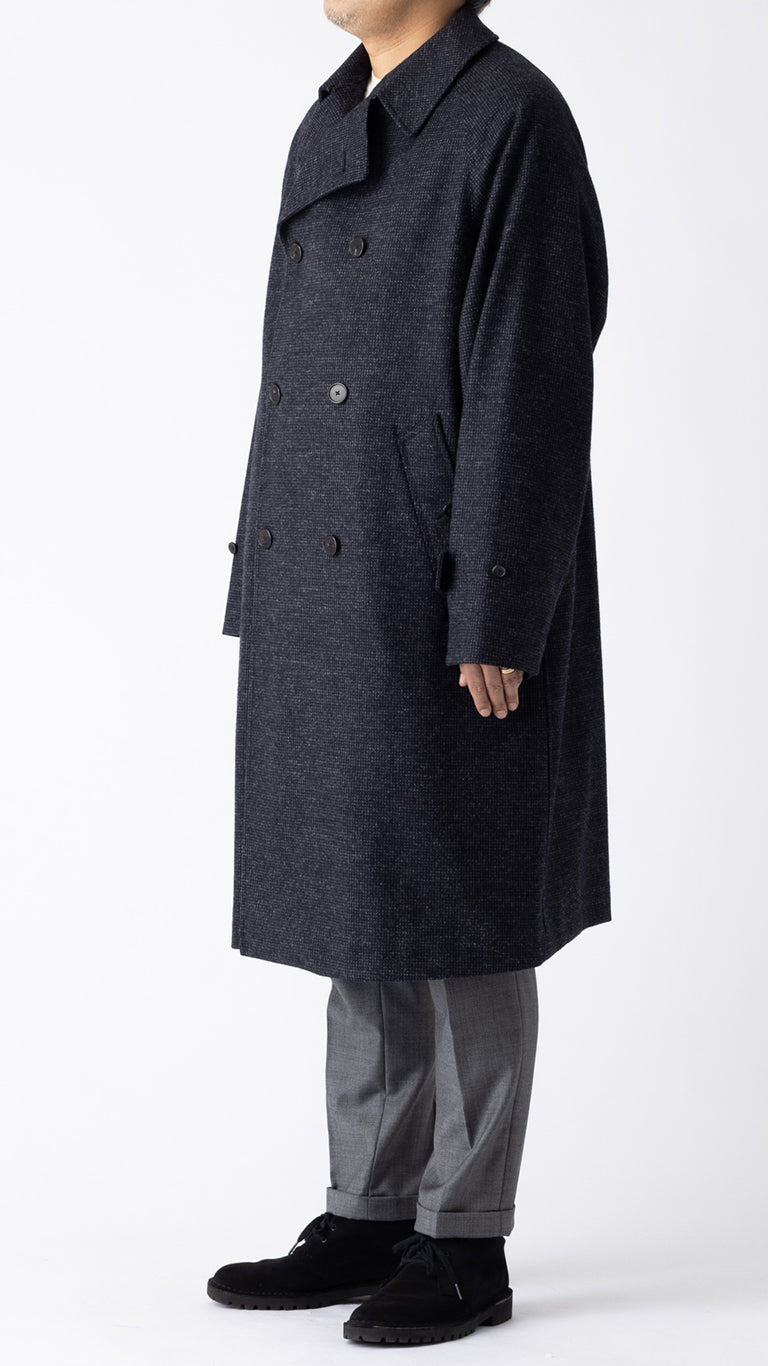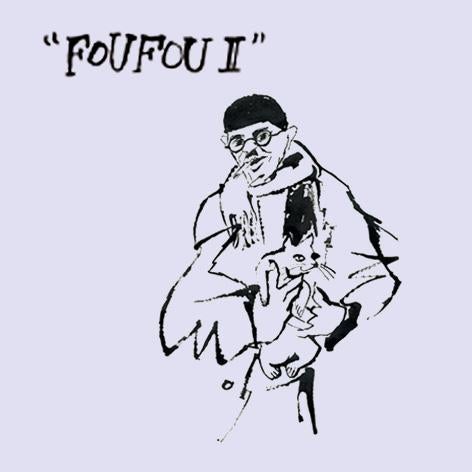 Chevron Tweed Jersey is reproduced the beauty of Tweed in good old days by rare knitting machine, with lightness and elasticity. 
Its materials are mixed with original recipe by four types of wool including Shetland wool with two different methods of spinning.
かつてのツイード素材の美しさを、希少な編み機で軽量に、伸縮性を持たせて再現しました。
シェットランドウールを含む4種類のウールをイレギュラーな番手に紡績したオリジナルヤーン使用。
Painter, Printmaker (1886-1968)
FOUFOUⅡ has two inspiration sources. One is snap photo at Deauville seashore on 1928, and the other is "Motoring Coat" which has same detail of his coat, no belt and double breast.
Model name is come from his nickname by his unique looks and attitude on École de Paris era.
In French, FOUFOU means "Mad-Mad".
On FOUFOUⅡ, it is set with sloping raglan sleeve which enables flexible fitting.

画家, 版画家 (1886-1968)
1928年にドーヴィル海岸を訪れた際のスナップ写真をベースに、ベルト無し、ダブルブレスト、という共通のディテールをもつ当時の"Motoring Coat"(カーコート)をもう一つのインスピレーションとしました。
モデルネームは彼のユニークなルックスや言動から、École de Paris時代に付けられたニックネームから。
フランス語で文字通り"Mad-Mad"の意
FOUFOUⅡIでは、袖の広い稼動域を確保したスローピングラグランスリーブを採用し、フレキシブルなフィッティングを可能にしています。
【MATERIAL】 表地(SURFACE):ウール(WOOL)97%,ナイロン(NYLON)3% 身頃裏地(BODY LINING):コットン(COTTON)100%

【SIZE】
| | Length(on the back) | Nape top cuff | Chest |
| --- | --- | --- | --- |
| XXS | 99 | 81.4 | 104 |
| XS | 102 | 83.6 | 110 |
| S | 105 | 85.8 | 116 |
| M | 108 | 88 | 122 |
| L | 111 | 89.8 | 128 |
| XL | 114 | 91.6 | 134 |
| XXL | 117 | 93.4 | 140 |
All measurments are in centimeter(cm)
【APPROXIMATE WEIGHT FOR SIZE M】4.0kg
【BOX SIZE】82×45×13cm